Pittsburgh Airport (PIT)
Use this website to quickly find the most important information about the airport in Pittsburgh, called Pittsburgh International Airport: Departures, Arrivals, Parking, Car Rentals, Hotels near the airport and other information about Pittsburgh Airport. Plan your travel to PIT Airport with the information provided in this site.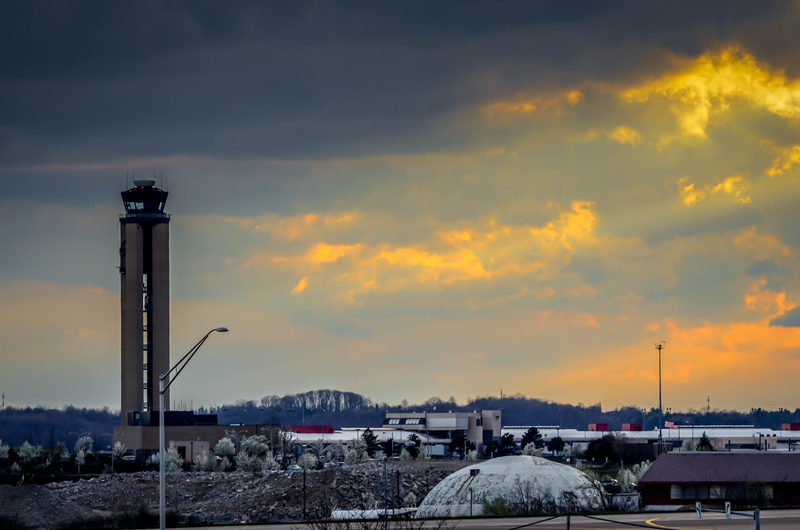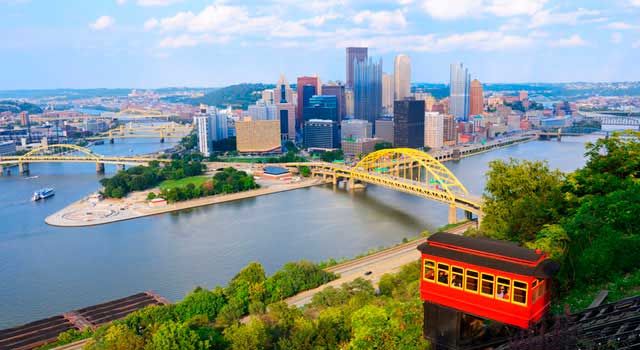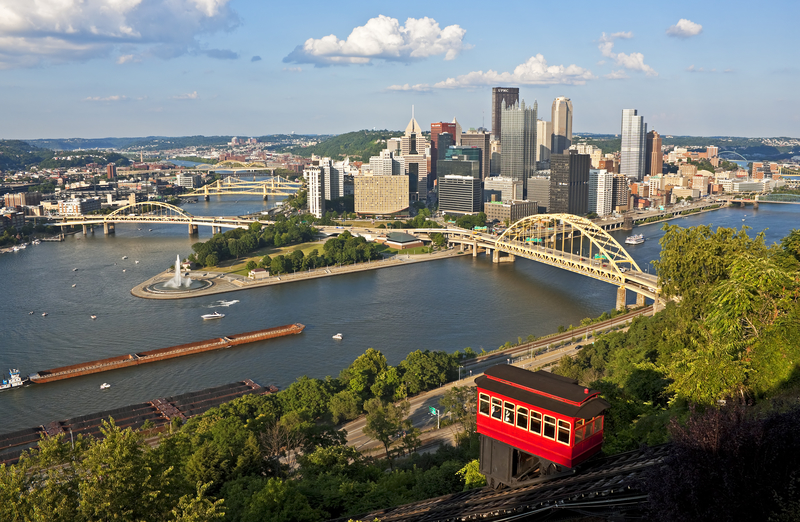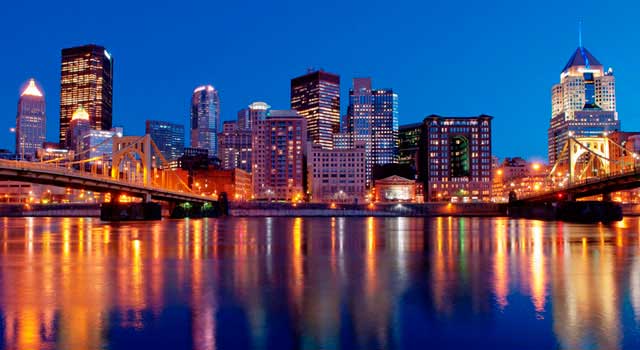 Pittsburgh Airport, known officially as Pittsburgh International Airport (IATA: PIT, ICAO: KPIT, FAA LID: PIT) is located 20 miles (30 km) west of downtown Pittsburgh, in the suburbs of Findlay Township and Moon Township, in Pennsylvania, U.S.
Pittsburgh Airport is a cargo and also a passenger airport that serves the metropolitan area with over 414 flights per day to 74 destinations on 17 airlines. Nowadays, PIT Airport is a main focus for low-cost carriers such as Frontier Airlines, Spirit Airlines, Allegiant Air, British Airlines and Wow Air. PIT Airport has 4 runways and it has the longest runways of a commercial airport in Pennsylvania.
The airport's two longest runways are 11,500 feet (3.510 m) and 10,775 feet (3.280 m) and operate the largest airlines.
In 2017 Pittsburgh Airport handled 8,988,016 passengers and although is quite far from its own record in 2013 -which served 14,266,984 passengers-, PIT Airport is the second busiest passenger airport in Pennsylvania and 47th-busiest in the United States.
Pittsburgh Airport has two Main Terminals, the "Landside Terminal" and the "Airside Terminal".
Transfers between terminals
Both terminals are connected to each other by an underground people mover.
From the transit level, passengers can get to the Hyatt Regency Hotel and to the Extended Term Parking (eastbound) and to the Airside Terminal (westbound).
From the Airmall level of the Landside Terminal it is possible to get to Concourses A to D.
Landside Terminal
This is the Departures terminal. All inbound flights from Pittsburgh Airport are hosted in the Landside Terminal.
The terminal is provided with several shops and cafes, and also with an hotel and convention center, which can be both reached by moving walkways. More information
Airside Terminal
This is the Arrivals terminal. All outbound flights from Pittsburgh Airport are hosted in the Airside Terminal.
Many of the AirMall shops are located in the center core and there are over 100 shops and brand stores. More information
Councourses
- Concourse A: has 25 (A1-A25) and currently is used by four carriers: Southwest Airlines, Air Canada, United Airlines & United Express.
Concourse B: has 25 gates (B26-B50) but only gates B26-B44 are available for use.
The concourse is used by American Eagle and American Airlines and several concessionaires still operate in the concourse.
- Concourse C: has 11 gates (C51-C61). All international arrivals pass through Concourse C -with the exception of cities with U.S. border preclearance- as a customs and immigration. Some domestic flights also operates in the concourse.
The following airlines operates from Concourse C:
Delta AirLines (International Flights), Frontier, Southern Airways Express, Allegiant, Porter, Sunwing & Xtra Airways.
- Concourse D: has 14 gates (D76-D89).
Is used by Delta Air Lines, Delta Connection, JetBlue and OneJet.
The PIT airport serves also as an International food cargo hub and is the world's leading caterer for business and air.
Telephone: +1 (412) 472-3525
Pittsburgh Airport counts with the following means of transportation:
- Bus: There are two routes available: 28X and #29. Route 28X connects Downtown Pittsburgh and the city's University District (Oakland). Departs every 30 minutes outside of Door 6, Baggage Claim. Mountain Line Transit (Grey Line, Route #29) connects areas south of Pittsburgh including Waynesburg, Morgantown, Fairmont, and Clarksburg.
- Taxi: Get within 30 minutes to downtown Pittsburgh from the airport by taxi. At PIT Airport operates four cab companies: Checker Cab, Cranberry Taxi Inc dba Veterans Taxi, Yellow Cab Co. of Pittsburgh and zTrip.
- Car Rental: Pittsburgh Airport provides car rental services provided by major international companies. To get more information, click here.
- Limousines: There are some incoming and outcoming limousines operators at PIT Airport to downtown Pittsburgh and surroundings.
- Rail: It is planned to extend the Pittsburgh Light Rail system to PIT Airport in the near future.
Pittsburgh Airport provides to travelers the following facilities and services:
White Courtesy Phones: If you have any questions and you aren't close to a information desk, Dial 6.

Art installations: The airport has available art performances during specific months for all passengers.

Mothers' Nursing Lounge and Kidsport: Available in Concourse C.
Other Services
PIT Airport also provides ATM's, Chapel and Mosque, airport Ambassadors available to assist inexperienced passengers and Flight Desk kiosk to allow travelers to check themselves print their own boarding pass.
Pittsburgh Airport is also equipped with wheelchair services -must be arranged through your airline when you book your flight-.
Contact Information
Airport Boulevard.
Pittsburgh, PA 15231, USA.
Information: +1 (412) 472-3525
Contact phone:
+1 (412) 472-3500
Fax: (412) 472-3636
Email: info@flypittsburgh.com